Language Consortium Program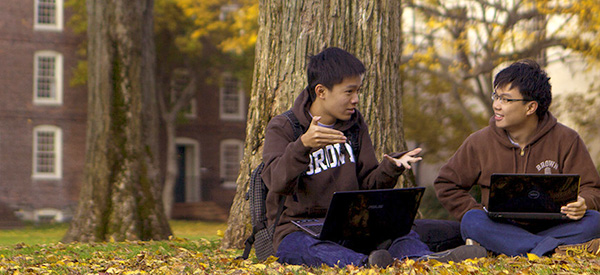 One of the ways that AICU Rhode Island supports its mission of encouraging and facilitating consultation and cooperation among association members regarding academic programs, research, and community service is through the Language Consortium Program.
This initiative allows students currently enrolled in an undergraduate degree program at one of Rhode Island's private institutions of higher education to enroll in language courses (space permitting) at any of the participating consortium schools in those courses which are not offered at their home institution.
This program is intended to enable students enrolled in AICU Rhode Island member institutions to advance their knowledge in foreign languages and to extend their participation in courses focused on second language acquisition.
Only in instances when a course is not offered at a student's home institution, he or she may seek enrollment in one of the eligible courses. Enrollment is limited to the eligible courses. First priority for enrollment must be given to degree candidate students enrolled in the accommodating institution – and thus AICU Rhode Island Language Consortium program students may not be able to enroll in "limited enrollment" courses or in most "special permission required" courses.
Each course carries semester credit hours identified by the individual institution offering the course.
AICU Rhode Island Language Consortium students should be aware of the grading policy of their home institution and of the accommodating institution. Auditing a course is not an option within the Language Consortium. Upon completion of each course, students may request their transcript from the registrar's office and submit it to their home institution for grade and credit transfer. The accommodating institution is not responsible for the student's home institution's policies on transfer credit or for providing specific course information to the home institution.
**The exact courses available each semester are subject to change.
Students should be aware that for courses identified as "year-long" courses, enrollment for two semesters is required and grades and credit are awarded at the completion of the second semester. For students who do not complete the second semester of the "year-long" course, credit and grades for the first semester are forfeited. In exceptional circumstances, a student may be admitted to the second semester of a "year-long" course and will earn credit for the one semester.
Enrollment in courses beyond the 0100 level will be determined by completion of the language placement procedure. All courses require approval and signature of the instructor in order for students to register. (See below for course placement information in How to Apply)
Taking a course for credit means that the student must meet all the course requirements as specified by the instructor. Students are also subject to the same academic policies regarding course prerequisites, grading options, extension of work, etc., as any other degree candidate student. These policies are outlined on each institution's registrar's web site.
Enrollment in a course assumes that the student will attend the class and the scheduled exams, including any final exams. Students should be aware of the course and exam schedule and should make arrangements to meet the expectations of the course.
Enrollment as an AICU Rhode Island Language Consortium student must be approved on a semester-by-semester basis. Enrollment does not imply admission to candidacy for an accommodating institution degree.
Applications for enrollment as an AICU Rhode Island Language Consortium student are typically due at least one month prior to the start of the term.
How to Apply:
Complete the application form (with specific course # and title indicated) provided by the accommodating institution.
Fax a current Transcript(s) from the college/university which you are attending to the number listed on the accommodating institution's application form, Attention RI Language Consortium.
Submit a letter on your institution's letterhead from your Dean indicating that the course you are requesting is not available at your home institution and that you are approved to enroll in this course and to transfer the credit
Schedule a registration advising appointment with an Advisor via email to the email address indicated on the accommodating institution's application, indicating that you are a Language Consortium student candidate.
If you are seeking enrollment in a course beyond a certain level, you may need to schedule and complete a language placement procedure, which you would coordinate with the Language Department at the accommodating institution.
Complete the Registration Card and/or any additional forms you receive at your advising session obtain the required signatures and submit the form(s) to the Registrar of the accommodating institution.
** For International Students enrolled in a degree program on an F-1/J-1, you must be mindful of your lawful nonimmigrant status. You must, therefore, in advance obtain a letter of concurrent enrollment authorization from your International Student Advisor at your U.S. home institution (who issued your I-20/DS 2019). Submit a copy of that letter to the accommodating institution with your enrollment materials.
You will need to evaluate your current level of language proficiency as directed by the accommodating institution's policy, which may entail taking a language placement test through that institution's Language Department or by meeting with the designated faculty member in the language department for an assessment interview. Once you have selected the course in which you wish to enroll, you must obtain the signature of the instructor on the form given to you. All classes require signed permission from the instructor. Please keep in mind that registration in some courses is limited because of space.  AICU Rhode Island Language Consortium students register after matriculating students, and All AICU Rhode Island Language Consortium students must obtain the instructor's permission no later than the third class meeting in order to finalize their registration. The accommodating institution's course schedule will indicate which courses have limited enrollment and what the current enrollment is.
Once you have the signature of the instructor, please go to the Registrar's Office to submit your course choice(s). The Registrar's Offices are typically open from 8:30 a.m. to 5:00 p.m.
Student enrollment will be confirmed with your home institution's Dean. Although the enrollment deadline for courses at each institution may vary, most language instructors will not allow students to add the course after the first three class meetings.
Study at each institution is governed by the academic and social policies stipulated in the institution's Academic Code and Non-Academic Conduct policy. AICU Rhode Island Language Consortium students enrolled through the RI Language Consortium agreement will have a student ID and email from the accommodating institution and will be able to access libraries and on-line course materials. AICU Rhode Island Language Consortium students do not have access to meal contracts, Health Services, or other services provided specifically for undergraduate students (tutoring, academic resource office, Writing Center, etc…).