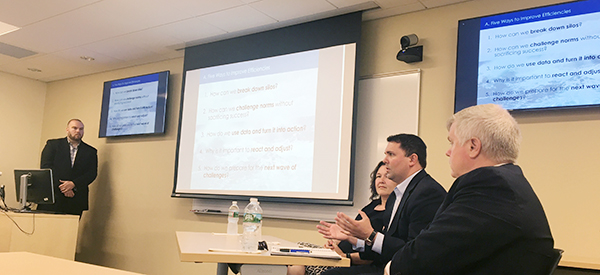 The Association of Independent Colleges and Universities of Rhode Island (AICU Rhode Island) is an alliance representing the common interests of the eight independent institutions of higher education in the state. The AICU Rhode Island Community Partners Program is an important link between the Rhode Island community and the educational community. AICU Rhode Island invites and selects Community Partners as a means of providing a resource to our members and encouraging the development of strong community partnerships.
Organizations with Community Partner status receive the following:
Recognition of your entity's support and contact information on AICU Rhode Island's website.
Visibility in the private higher education market in Rhode Island before more than 200 high-level decision-makers.
The opportunity to contribute print/electronic materials for communications with members and the chance to share expertise on relevant topics at AICU Rhode Island peer group meetings when appropriate.
Individual consultation with AICU Rhode Island staff to learn about potential partnerships with member institutions.
Potential opportunity to interact with college representatives with AICU Rhode Island in areas of finance, student affairs, fundraising, research, facilities, and government relations – with contacts including CFOs, Communications Directors, Public Affairs Directors, Legal Counsels, Procurement Officers and other operational decision makers.
Community Partner status is offered to inquiring entities that meet certain criteria. The organization must:
Be domiciled in, or

 

active, in Rhode Island;
Have an unquestionable reputation for ethical business practices and/or community partnerships;
Be approved by the AICU Rhode Island President, and
Remit the Community Partner membership fee to the Association.
To view a list of our 2018 Community Partners, please click here.