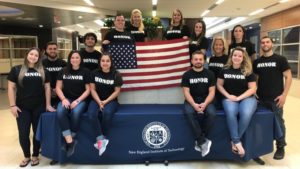 EAST GREENWICH, R.I. (WJAR) — Students training in the Physical Therapist Assistant, or PTA, program at the New England Institute of Technology are remembering veterans by raising funds for the Wounded Warrior Project on Patriots Day.
"PTA's for Patriots" is presenting the "Red, White and You Fitness Challenge," a community service project set for Sept. 11 on the East Greenwich campus.
The goal of the event is not only to raise money and get people moving, but also to honor veterans who served the country post-9/11.
"As the date gets further and further away from September 11, 2001, we've come far from really giving it the remembrance that it deserves, and I think this year needs to be a year where we reignite that meaning," said Carissa Melicharek, who spearheaded the event with fellow student and Navy vet, Heather Kinne. "It's not just one moment of silence. We're really discussing what that day meant for us as Americans, especially with all of the political turmoil and controversy going on now. It's a huge day to bring it all back together as Americans in general."
A group of 14 students is calling on participants to perform five exercises to see how many repetitions they can perform in 60 seconds. It's a nod to the physical training aspect soldiers endure while in boot camp.
"Heather said when you're training in boot camp, you have to do these fitness challenges and usually it's timed within 60 seconds," Melicharek said. "It's a challenge, but it's also fun and competitive. We thought it would create a good atmosphere by getting people involved in movement in general because that is our expertise as PTAs — we're movement professionals."
Since Melicharek said the PTA program is the education of choice for many veterans at NEIT, they are passionate about giving back to soldiers who fought and continue to fight to protect America's freedom, especially on one of the most significant days in American history.
"We have so many veterans that decide to use our program at New England Tech. We also have a lot of family members who have served. My brother was an EOD tech for a few years. He did a few tours, and Heather is a veteran," Melicharek said. "We thought it would be really appropriate to finally do something that would benefit the Wounded Warriors."